Rating

4.5

|

4

Reviews
in the past 24 months
Save $5 Off Orders $95+
Must Use Coupon Code:
SUMMER177
Hurry Offer Expires Soon! 7/31/2017
Product Info
Overlay: 1/4"
Length: 2-1/4"
Width: 1-1/2"
Projection: 1-5/16"
Product Type: Decorative Hinge
See more product details
What our
customers

have to

say

about this product...
4.5
out of
5
based on
4
ratings
5 star
-
2
4 star
-
2
2 of 2 people found the following review helpful


4 of 5 Just what we needed May 16th, 2016
by

John

from Pickerington, OH

It was nice to be able to find this type of hinge. The big box stores do not carry it. I wish the screws were a bit larger but they worked fine. They have the best prices.

5 of 5 Largest selection and best prices. February 24th, 2016
by

Patricia

from Wareham, MA

Had a hard time finding this sized hinge in a dark color. Your site had them and for the best prices. Although I ordered extras to have on hand, we actuallyhad a problem with two of them. Wasn't going to call, but decided that I would, since I did purchase them. The response was that they would sent out 2 more right away! Couldn't have been more pleased. Great selection, great variety of products and exceptional customer service. Thank you!

This review is about a different size/color of this item. (AMBP7566ORB)
See More Reviews
Reviews about us...
5 of 5 | July 15th, 2017

Huge selection at competitive prices.

4 of 5 | July 15th, 2017

Router guides for the hinges that I ordered were not clearly marked and I ordered the wrong one, cost me and other shipping charge.

5 of 5 | July 14th, 2017

Great selection; found exactly what I needed.

5 of 5 | July 14th, 2017

Customer service was the nest

5 of 5 | July 13th, 2017

Parts were very easy to find and order was delivered promptly
See More Reviews
Partial Wrap 1/4" Overlay Satin Nickel Sold Per Pair (#BP7566G10)

Item added to Compare Tool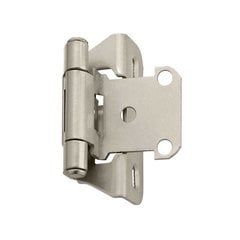 Partial Wrap 1/4" Overlay Satin Nickel Sold Per Pair (#BP7566G10)
AMBP7566G10
Note: You can find a link to the compare item tool at the top right of the website.