Rating

3.9

|

13

Reviews
in the past 12 months
Save $5 Off Orders $95+
Must Use Coupon Code:
SUMMER177
Hurry Offer Expires Soon! 7/31/2017
Product Info
Product Type: Decorative Hinge
Self Closing: Yes
Sold: Per Pair
Overlay: Variable
Product Finish: Burnished Brass
See more product details
All the
product info

you could ask for...
What our
customers

have to

say

about this product...
3.9
out of
5
based on
13
ratings
5 star
-
7
4 star
-
2
3 star
-
2
1 star
-
2
0 of 1 people found the following review helpful


1 of 5 Too long to wait June 9th, 2017
by

Steve

from Waverly, NE

Apparently it will take 6 weeks to get me my order. That is ridiculous!

3 of 5 Hinges. May 8th, 2017
by

Robert

from Metairie, LA

Product is good but it takes forever to get them. Should be a two day procedure...put the product in a bag and mail it. Instead it takes about 7-10 days.

This review is about a different size/color of this item. (AMCM7139G10)
See More Reviews
Reviews about us...
4 of 5 | July 25th, 2017

Overall, I am happy with the purchase but I still think that with spending over $200 I should get free shipping and if I do have to pay shipping, it shouldn't be as high as your fees are. You shipping costs are too high.

5 of 5 | July 23rd, 2017

delivered as advertised at a reasonable price and promptly

5 of 5 | July 22nd, 2017

Easy to navigate , quick, appears to be quality part , I have installed it and functions well. Thank you for your product and service .

5 of 5 | July 21st, 2017

Excellent product. Custom sockets. Could not find anywhere else. Very courteous, inexpensive and quick transit. Thank you!

5 of 5 | July 15th, 2017

Huge selection at competitive prices.
See More Reviews
Variable Overlay Hinge-Burnished Brass-Sold Per Pair (#CM7139BB)

Item added to Compare Tool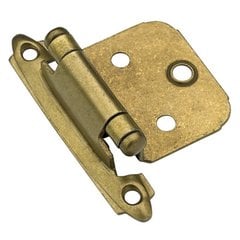 Variable Overlay Hinge-Burnished Brass-Sold Per Pair (#CM7139BB)
AMCM7139BB
Note: You can find a link to the compare item tool at the top right of the website.