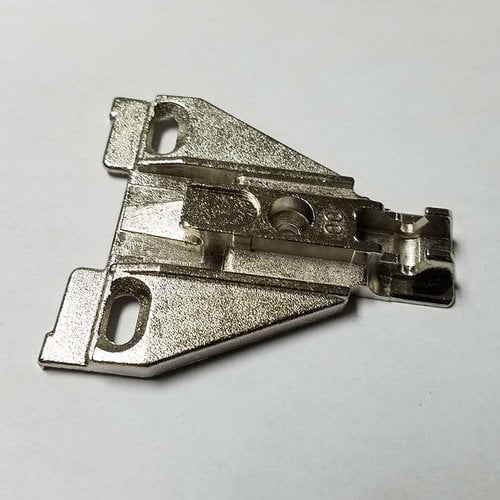 Rating

4.8

|

16

Reviews
in the past 24 months
Save $5 Off Orders $95+
Must Use Coupon Code:
SUMMER178
Hurry Offer Expires Soon! 8/31/2017
Product Info
Height: 0MM
Product Type: Mounting Plate: European
Product Finish: Nickel Plated
Material: Steel
Mounting Type: Screw On
See more product details
All the
product info

you could ask for...
What our
customers

have to

say

about this product...
4.8
out of
5
based on
16
ratings
5 star
-
12
4 star
-
4
5 of 5 Cabinet Hinges August 8th, 2017
by

Malvin

from White Pine, TN

Excellent service, would definitely do business again. Thanks

5 of 5 Our custom kitchen cabinet failure July 16th, 2017
by

Geoffrey

from Paso Robles, CA

We went to great efforts to have a upscale , quality kitchen when we remodeled this house. Have had a few issues with the installation and hardware ( now going on 10 years since remodel) . Recently broke a hinge bracket for one of our corner cabinets, looking around locally for parts , none of our local stores had the correct pieces . I found out about your company online , Thank you , thank you, leafed thru a couple pages on your website, found my parts , good description , appeared to be quality by description, would like to have had better quality picture , purchased 2 hinge brackets , were sent in a timely manner . When received found perfect fit and quality of production was as I expected ( good) , fit perfectly , installed easily and my Bride is happy to have our Cherry cabinet kitchen back in order .Once again , thank you for good , convenient, timely service, and quality materials to work with , Previously frustrated consumer...P.s. We will be keeping your name in our vendor listings for home repair/ supplies ....Thank you
See More Reviews
Reviews about us...
5 of 5 | August 12th, 2017

No problems

5 of 5 | August 12th, 2017

They are fabulous people.

5 of 5 | August 12th, 2017

I've been looking for replacement hinges for my kitchen cabinets for two years. I sent Doug 5-6 different pictures of my hinges and he pick out one that worked perfectly in just a few hours. Great service and expertize!!

5 of 5 | August 12th, 2017

Best ever

4 of 5 | August 11th, 2017

Great product. Found hinges here that no one else carried.
See More Reviews
Nexis Face Frame Screw On Mounting Plate 0MM Height (#346.290.88.0015)

Item added to Compare Tool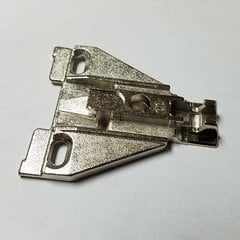 Nexis Face Frame Screw On Mounting Plate 0MM Height (#346.290.88.0015)
GHA346.290.88.0015
Note: You can find a link to the compare item tool at the top right of the website.